To men and women alike, our hair is important. For many of us, it's how we express ourselves.
We want to have soft, shiny, and healthy hair. And we also want to ensure we avoid hair loss.
Our hair can take a beating. The weather can dry it out, we can damage it through our blow dryers, hair straighteners, and curling irons. Or it can just be naturally dry or brittle.
Enter CBD to the hair care rescue!
When you think of CBD and the benefits that come with it, hair care may not be the first that comes to mind.
It might seem unlikely, but CBD can actually be wonderful for your hair! CBD comes with a wide range of benefits, and this is just another one to add to the list.
When it comes to your hair, CBD is known to help with:
– Supporting hair growth
– Hair repair
– Strengthening of the hair
– Preventing further damage
But how?
CBD contains important fatty acids like Omega-3, Omega-6 and Omega-9 — all of which can be very beneficial for the hair. Since CBD contains these fatty acids, you can actually apply CBD directly to your hair. The Omega's then lock in moisture and help seal the hair cuticle. When absorbed by the scalp, they can also help to promote and stimulate hair growth.
You are likely wondering how CBD can help with hair. Well, the answer is in the properties of CBD itself!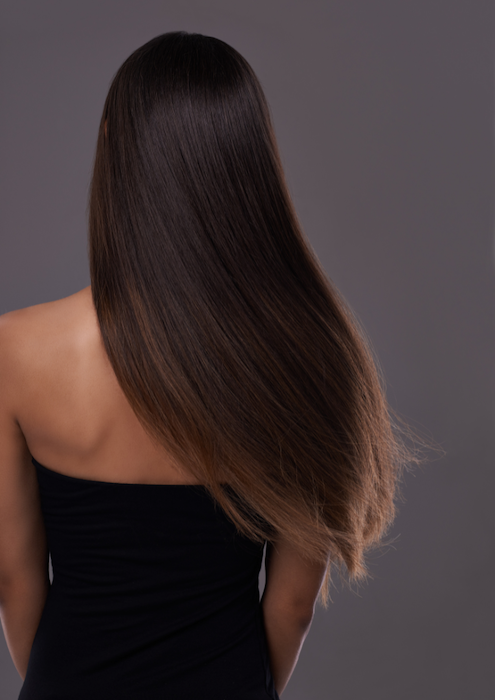 CBD also contains GLA (gamma linoleic acid), which can help promote natural hair growth. It's rich in antioxidants, such as vitamins A, C, and E — all of which can work to protect the hair from environmental damage. Also, the antioxidants from the oil may help protect hair as well and can even repair breakage.
CBD oil contains several amino acids, which are the building blocks of protein. And since our hair strands are made out of protein, when CBD is applied and used on a regular basis, it can help strengthen your hair. Not only does it contain Omega's and amino acids, but it also contains calcium and iron, which also work to strengthen the roots of the hair.
CBD on my hair — won't that make it oily?
You can apply CBD to your hair as a treatment overnight and allow the oil to soak in, or apply it to your roots as a 30 minute leave in and then rinse.
But it's not the only way it can help…
Taking CBD internally also comes with benefits for your hair.
Take hair loss for example. Using CBD oil for hair loss can be effective because it may help control inflammation, which can promote a healthier environment for hair to grow on the scalp.
SomaLeaf has an added bonus…
A wonderful way to help support your hair health is to use CBD with Turmeric.
Turmeric itself offers many benefits for hair care support. This age old root can help stimulate hair growth, thicken hair, and reduce hair loss when added to shampoos.
Turmeric can work to invigorate the scalp and revitalize it, which can pave the way for healthy hair to grow. There are also antiseptic and anti-inflammatory qualities within turmeric that may help soothe and reduce dandruff.
CBD with the added benefit of turmeric can be the answer you are seeking for your hair.
Remember, SomaLeaf offers a 180-day return policy! If you find it's not for you, simply return it for a full refund within 180-days!